"He were just... lying there, burnt to a crisp. He smelt like egg fry-up."
―Ruth
Ruth is a chambermaid at The Traveler's Halt.
Biography
Edit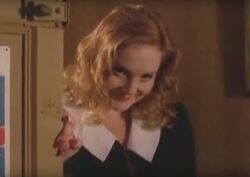 Ruth works as a chambermaid at the hotel and becomes increasingly disturbed by the mysterious deaths that occur. She witnesses the last one first-hand when she is possessed by the spirit of Sonia Cronenberg, who uses her to try and seduce Mr. Lewton. However, Lewton is unsuited for Sonia's purposes and he is burnt to death by the spirit known as The Burning Man.
Ruth serves as a witness when Jeff Randall and Jeannie Hurst arrive to try and solve the mystery, and she later joins Margaret Hooper in the exorcism to remove the spirits.
Behind the scenes
Edit